Christian Book Release by LaNette Shipley
Elevate Christian Network :: News & Events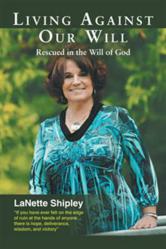 PUEBLO, Colo. (PRWEB)
Christian Book Release.  When LaNette Shipley got the call that her homeless brother had been severely burned from a fire while trying to keep warm, she was devastated and heartbroken. Three weeks later, her brother would die from the injuries. He had lived on the streets of their hometown for over 15 years. One year prior, her younger brother who suffered from mental illness due to neurological trauma died suddenly. Inspired by these tragedies and the fact that she was once a victim of domestic violence and a mother at 16, Shipley became motivated to share her story in her new book Living Against Our Will: Rescued in the Will of God (published by WestBow Press).
Shipleys hope is to help people who also face seemingly dark generational curses, emotional dysfunction, alcoholism and addictions. I utilize my testimony in correlation with my education in psychology and Christian counseling to help individuals see how evident spiritual warfare is, she states.
As she details in Living Against Our Will: Rescued in the Will of God, Shipley, determined to protect her children and strengthened by her faith in God, broke away from the historical legacy of domestic violence and alcoholism.
In my story, I demonstrate how powerful Jesus Christ is and show the restoration of being reunited with the creator of our destiny, she says. We all have a purpose and so many of us have never been valued to the depth of our greatest potential. My story inspires people with hope, deliverance, wisdom and victory.
 Living Against Our Will: Rescued in the Will of God
By LaNette Shipley
Hardcover | 6 x 9in | 184 pages | ISBN 9 781449783068
Softcover | 6 x 9in | 184 pages | ISBN 9 781449783051
E-Book | 184 pages | ISBN 9 781449783044
Available at Amazon and Barnes & Noble
About the Author
LaNette Lords Shipley is co-founder of Darkness2Light with her husband Ron of 25 years. Their ministry focuses on helping victims of domestic violence, homelessness and human trafficking, as well as struggling women and families. Living Against Our Will: Rescued in the Will of God is also written for counselors, therapists, pastors, teachers, parents and caregivers to aid in the healing and restoration of hurting and broken individuals.
Shipley is an author, speaker and singer and has recorded three album projects, written two books and has worked with troubled youth for over 15 years. She desires to donate the book to correction facilities, shelters and rehabilitation centers. More information can be found at http://www.lanetteshipley.com
WestBow Press is a strategic self-publishing alliance of Thomas Nelson, Inc., the worlds largest Christian publisher, and Author Solutions, Inc. (ASI) the world leader in the popular self-publishing industry segment. Through this partnership, authors benefit from the rich publishing heritage of Thomas Nelson and the speed-to-market advantages of the ASI self-publishing model. Titles published through WestBow Press are evaluated for sales potential and considered for publication under the Thomas Nelson imprint. Thomas Nelson, Inc. continues to inspire the world with distribution of products in more than 100 countries worldwide. For more information, or to start publishing today, visit http://www.westbowpress.com or call (866)-928-1240. Follow us @westbowpress on Twitter for the latest news.
Featured LaNette Shipley Video
"Living Against Our Will: Rescued in the Will of God" by LaNette Shipley
Written within these pages is the testimony of a determined young woman who refused to accept the harsh reality dealt to her.Through tenacity as a mother, sh…
LaNette Shipley Website
–Visit Lanette Shipley online at:   http://www.lanetteshipley.com
Christian News from Around the World
Georgia Governor Orders Bibles Returned to State Parks Following …
Atlanta, Georgia — The governor of Georgia has ordered that Bibles recently removed from lodges at government parks throughout the state be returned, reports.
Christianity Today Gleanings: Good News for Christians in India's …
http://blog.christianitytoday.com
After nearly a decade, Hindu nationalist party finally loses power in Karnataka.
Churches desecrated in Central African Republic; Christians flee to …
http://www.catholicculture.org
In recent weeks, Islamist rebels who assumed power in the Central African Republic in March have kidnapped the rector of the cathedral in the nation's capital as well as the archdiocesan chancellor. Calling members of the …
Christian Teen Who Inspired with "Clouds" Dies of Cancer – ChristianityToday.com (blog)
BillboardChristian Teen Who Inspired with "Clouds" Dies of CancerChristianityToday.com (blog)At Christianity Today, we're constantly tracking important developments in the church and the world. Often we use our network of reporters around the world ( …
Faith-Themed Television Boosted by 'The Bible' – ChristianityToday.com
ChristianityToday.comFaith-Themed Television Boosted by 'The Bible'ChristianityToday.comThat success has sparked both enthusiasm and skepticism among Christian media watchers. Jonathan Bock, whose Grace Hill Media promoted the miniseries, thinks that …
*Read more Elevate Christian Network >> News and Events >> Christian News Channel