Christian Book Release: "Life Unworthy of Life" by Derek Elkins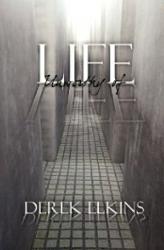 Holmen, Wisconsin (PRWEB)
Christian Book Release.  Author Derek Elkins newest book, "Life Unworthy of Life" has officially been released by Athanatos Publishing Group. "Life Unworthy of Life" was the winner of Athanatos Christian Ministries 2012 Christian Novel Contest.
The title of the book is drawn from the title of another book, "Allowing the Destruction of Life Unworthy of Life." Written in 1920 by two German professors, the book laid the legal and ethical foundations for the view that not only did people have the right to end their lives, but sometimes people had the duty to end other people's lives.
Life Unworthy of Life is a fictional account that examines one of Hitler's pet projects, the T4 Program. Before there was the Holocaust, there was the Action T4 program. This program quietly shipped disabled and mentally ill people of all ages to locations in Germany in attempt to 'sanitize' the German race. Such medical procedures need doctors; enter Dr. Viktor Gottlieb, an idealistic young doctor who finds himself practicing medicine in a way he had never anticipated. In this fictional portrayal of some of humanity's darkest days, award-winning author Derek Elkins raises questions about just how far we've left the concept of 'life unworthy of life' behind.
Life Unworthy of Life is available from Amazon and Barnes & Noble.
Derek Elkins can be reached through the publisher at director(at)athanatosministries(dot)org.
About the Author
Derek Elkins was born on August 31, 1967 and raised in Independence, Missouri.  He currently has a wife and five children.  He has worked the following jobs: pizza delivery driver, customer service, Air Force, Army Reserves, case manager in a homeless shelter and an auditor for the IRS.  Derek received a Bachelors of Science in Biblical Studies from Moody Bible Institute.
Related Links
Book highlight: Life Unworthy of Life by Derek Elkins
In his fictional book Life Unworthy of Life, Author Derek Elkins brings readers face-to-face with the reality of Hitler's goal to exterminate handicapped children. The term "life unworthy of life" was used by the Nazis to describe …
Review of Derek Elkins Life Unworthy of Life – By Robert Milton …
http://servantliving.wordpress.com
Life Unworthy of Life reminds us all of this fact: We have never locked eyes with someone that doesn't matter to God. Elkins examines the sanctity of life…every life, even those some in society consider "the least of these." …
Shining Brightly | derekelkinsauthor
writing. "No one lights a lamp and puts it in a place where it will be hidden, or under a bowl. Instead they put it on its stand, so that those who come in may see the light." Luke 11:33. Why do we hide our light? A light was meant …
For the Love of People | derekelkinsauthor
writing. "A priest happened to be going down the same road,. and when he saw the man, he passed by on the other side." Luke 10:35. Think about the hypocrisy involved in the Good Samaritan story. Here was a priest. I mean …
— Be Sure to visit Author Derek Elkins online at:  http://derekelkins.com
Christian News from Around the World 
Innovative New Homeschool Academy Launched to Teach Science …
DAYTON, Tenn. – In 1925, a historic court case forever changed the way many Americans view science and religion. Today, nearly 90 years later, two professors.
Vatican diplomat: over 100,000 Christians killed each year because …
http://www.catholicculture.org
"The serious violations of the right to freedom of religion in general and the recent continuing discrimination and systematic attacks inflicted on some Christian communities in particular, deeply concern the Holy See and many …
Imprisoned Chinese Pastor near Death – World – CBN News …
In a recent report in Christianity Today, Gong's daughter says he is near death after years of torture and neglect. She wrote a … Sign up for the CBN News Dispatch and receive CBN News Reports in your inbox each day.
'Faith-Based FEMA' Are Helping Moore Move On – Christianity Today
http://www.christianitytoday.com
As President Obama pledges recovery, Christian volunteers aid Oklahoma tornado victims based on what each denomination does best. … Southern Baptists' immediate dispatching of trained volunteers for cooking, cleanup and counseling services drew mention by NBC News anchor Brian Williams, who predicted Tuesday that churches will be "a huge part of the recovery." "As you and I have seen … After Turning Theological, Christian Hip-Hop Turns Critical · News …
After Turning Theological, Christian Hip-Hop Turns Critical – ChristianityToday.com
ChristianityToday.comAfter Turning Theological, Christian Hip-Hop Turns CriticalChristianityToday.comJust five years ago, uttering the phrase "Christian hip-hop" in the average evangelical church would have met with blank stares. All this has changed …
**Read more Elevate Christian Network >> News and Events >> Christian News Channel