Forever Changed International Coffee Helps Orphaned Children
Elevate Christian Network :: News and Events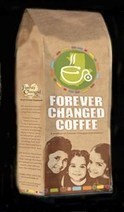 Camas, WA (PRWEB) December 03, 2013 — Forever Changed International launches new coffee product to help orphaned children in Guatemala.
Cee Harmon's insight:
Forever Changed International launched the Forever Changed Coffee brand to help orphans who live at the Dorie's Promise Guatemala orphanage in Guatemala City, Guatemala. According to the founder, Heather Radu, "There is nothing better than great coffee and knowing the money you spent on it is helping orphaned children thrive."
See on www.prweb.com
Featured Video
Forever Changed International:  A short video showing the first volunteers of the 2010 mission season to visit Dorie's Promise Guatemala.  They are an organization dedicated to rescuing orphans and giving them a home, love, an education, and a chance to grow up knowing that God loves them and has a purpose for their lives.
More reading:
Sponsorship Matching Opportunity! « Forever Changed International
http://blog.foreverchangedinternational.org
What if I told you we are one step away?… We are one step away from fully supporting all of the children at Dorie's Promise Guatemala through sponsorship. Over the years, a number of friends have come forward to stand …Read more …
Jesus has been my everything! « Forever Changed International
http://blog.foreverchangedinternational.org
That was the day my life changed, and I began to walk in relationship with Him. Jesus has been my everything! Without Him I'm nobody. His grace, mercy, and love are the most amazing things anyone can ever experience…Read more …
We have coffee! « Forever Changed International
http://blog.foreverchangedinternational.org
You can now order 1-pound bags of Forever Changed Coffee on the Forever Changed International site. Each bag can be purchased for a donation of $25 or more, and you can order as many as you like at that price…Read more …

Ministry Website
–To learn more about this ministry and Dorie's Promise Guatemala, visit them online at:  http://foreverchangedinternational.org
Related articles