Harvest Evangelism Feeds Opelika, AL Community on Thanksgiving Day
Elevate Christian Network :: News and Events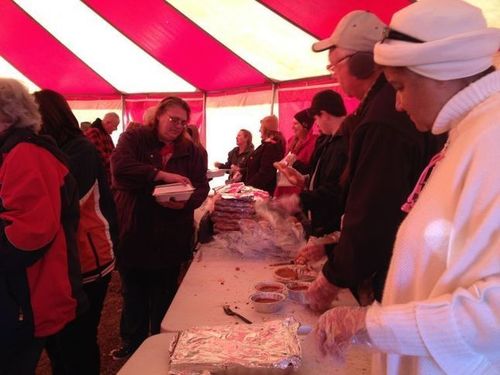 Harvest Evangelism feeds community on Thanksgiving. Opelika- Auburn News. Chapman, a resident of the Harvest Evangelism's His Place Farm in Chambers County, said he has grown closer to God as a part of Harvest Evangelism and wanted to take part in the ministry's Thanksgiving meal outreach program. …
Cee Harmon's insight:
Harvest Evangelism prepared over 1,400 meals to be given out in the Opelika, AL community. In addition, over 100 volunteers gathered to give food near the Harvest Thrift Store on Pepperell Parkway.  An estimated 300 people gathered to eat a warm Thanksgiving meal. According to Heath Chapman, "You think you're blessing others, and then you realize you've been blessed."
See on www.oanow.com
Featured Video
Marion Oaks Assembly of God sent a team to Opelika, AL to work with Harvest Evangelism Ministries. This video contains their testimonies and some photos.  Harvest Evangelism was founded in 1987 by Pastor Rick Hagans and his wife Kim.  Though the local ministries of His Place, Hosanna Home, Hope's Inn, Hope Clinic and Harvest Thrift Super Center are the most visible, the ministry of evangelism, missions, outreach and hands on ministry goes on regularly.
Ministry Website
–To learn more about the ministries and missions of Harvest Evangelism, visit them online at:  http://www.harvestevangelism.org
Related articles