MASKquerade Wins Christian Choice Book Award
Elevate Christian Network :: News and Events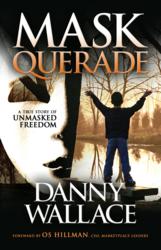 ATLANTA (PRWEB)
MASKquerade, an autobiography detailing the harrowing childhood and ultimate triumph of Danny Wallace, has been named a winner in the Christian Choice Book Awards by Xulon Press.
Im honored to receive this recognition and dedicate it to the countless, silent victims of childhood sexual abuse who need our love and prayers, said Danny Wallace. My painful experiences have opened so many doors to help others in a manner that reminds us God often works in unexpected, incredible ways.
Wallace speaks at churches and events nationally and around the world, allowing him to reach thousands of people, many of whom shed years of torment to realize true hope and freedom through forgiveness.
Wallaces latest book, Mans Cage Under Gods Tree, is a journey for the reader into the land of true freedom. In John 8:36 Jesus said, If the Son sets you free, you are free indeed! The book simply asks, What does absolute freedom look like?
The title is derived from a quote by Jacques Deval that paraphrased says, God loved the birds, so He invented trees. Man loved the birds, so he invented cages. The freedom that Jesus spoke of came as an absolute gift from the heart of God a heart that says, Im not here for me, I am here for you. This selfless heart of absolute freedom symbolizes Gods Tree.
MASKquerade is widely available online, including through the Danny Wallace Ministries site (http://www.dannywallace.org), and Mans Cage Under Gods Tree will be similarly available in early summer 2013. Wallace would like to congratulate all fellow award winners, including the two other authors in the autobiography/biography category.
About Danny Wallace
Danny Wallace is an author, international speaker and the CEO of Danny Wallace Ministries, Inc., a worldwide ministry based in Atlanta. Because of Danny's incredible testimony of surviving childhood physical and sexual abuse and his healing from AIDS, many consider Danny to be a leading authority in the Church today regarding freedom from any stronghold through transparency and embracing the Fathers Heart in every aspect of our lives.Visit http://www.dannywallace.org for more information.
For additional information, interview and image requests, contact Axia Public Relations at 866-999-2942, ext. 700.
Featured Danny Wallace Ministries Information
The Thread – MASKquerade / Danny Wallace Interview
The Thread's interview with Danny Wallace (author) and Tommy Wood (writer/director/producer) about the forth-coming feature film – MASKquerade.
The Trojan Horse ‹ Danny Wallace Ministries
Self-righteousness is the greatest obstacle facing the family of God today. At one time, (in my own self-righteousness) I thought it to be a trait reserved only for religious men who didn't truly know God at all. But once again…
Judgment ‹ Danny Wallace Ministries
It is something the self-righteous heart takes to like a duck to water, or more appropriately…a pig to slop. It is dispensed with righteous indignation, quickly and carelessly against 'sin', with no thought or compassion for the …
Confusion ‹ Danny Wallace Ministries
Iam a simple man. If you tell me the sky is blue, I expect to stick my head out of the door, gaze toward the heavens and see blue. I also expect to literally "see" blue skies, via every descriptive word that falls from your lips …
Danny Wallace Ministries Website
*
More Christian News from Around the World
Duggar Family of '19 Kids and Counting' – Christian News Network
Springdale, Arkansas — Jim Bob and Michelle Duggar of the popular TLC reality show 19 Kids and Counting have teamed up with several national evangelical.
News Bulletin 25 January 2013 — The Christian Institute
Website www.christian.org.uk Facebook http Twitter www.twitter.com YouTube www.youtube.com The Government has unveiled its Same-Sex Marriage Bill, which will be debated in parliament on February 5th — Sources close to the Education Secretary Michael…
News – Assault Charge Dropped Against Mega Church Pastor – CBS Atlanta
Dollar, founder and pastor of College Park-based World Changers Church International, is a well-known fixture in prosperity gospel — a branch of evangelical Christianity that teaches those with the most material wealth are among the most highly spiritually favored.
Crosswalk – U.S. Passes 55 Million Abortion Mark – Religion Today Blog
Find news stories that matter to Christians here at ReligionToday.com special news coverage. Read Christian news headlines from around the world. Conservative commentary, persecution headlines, Religion Today, and breaking Christian news.
WKYT – My Aunt Janie, an angel on Earth
The idea of retiring from her Christianity in action would have never occurred to her. Aunt Janie celebrated her 82nd birthday while in Indonesia where she went to teach in an international Christian school so that another teacher could have some time off.
*Elevate Christian Network :: News and Events