My Hope America with Billy Graham: More Than 16000 Churches Registered to Participate
Elevate Christian Network :: News and Events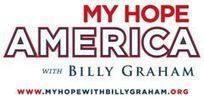 More Than 16000 Churches Have Registered to Participate in 'My Hope America …
Cee Harmon's insight:
This evangelism outreach will include one-on-one conversations along with special evangelistic programs available on TV, DVD and Internet. There will be several ways that people can share and reinforce the message of the hope and love found in a relationship with Jesus Christ.
See on www.christiannewswire.com
Related Links
Billy Graham Talks About My Hope America
Billy and Franklin Graham introduce viewers of The Bible Series to My Hope America, a nationwide outreach project that culminates this November. http://myhop…
My Hope America with Billy Graham– YouthWorkers.Net
My Hope America with Billy Graham. by Daryl Nuss. Are you looking for a good way to engage your youth in sharing with others? Recently, I attended a presentation by friends at the Billy Graham Evangelical Association …
Billy Graham's My Hope America Outreach Targets New York City …
"God has done amazing things through Billy Graham in New York City," said Preston Parrish, vice president of the My Hope America evangelistic campaign. "But, since his last visit in 2005, Billy Graham has still had in his …
Billy Graham Plans to Lead His Largest-Ever Crusade | Gleanings …
http://www.christianitytoday.com
This fall, the Billy Graham Evangelistic Assocation (BGEA) will launch "My Hope America with Billy Graham," a video evangelism course that "combines the impact of video programs with the power of personal relationships.
Defining Moments: My Hope America with Billy Graham – Kentucky …
Billy Graham addresses the theme of time and the moments that matter most. This video is from My Hope America with Billy Graham which is a massive effort to reach people with the gospel. In November, Christians across the …
Billy Graham to reach out to North America just before he turns 95 – Ecumenical News
Ecumenical NewsBilly Graham to reach out to North America just before he turns 95Ecumenical NewsBilly Graham met with Pope John Paul II in 1993. Graham is recording messages from his home in North Carolina to be broadcast during a major evangelistic …
Read latest Christian World News
Related articles