Nick Vujicic World Outreach Asia
Elevate Christian Network :: News & Events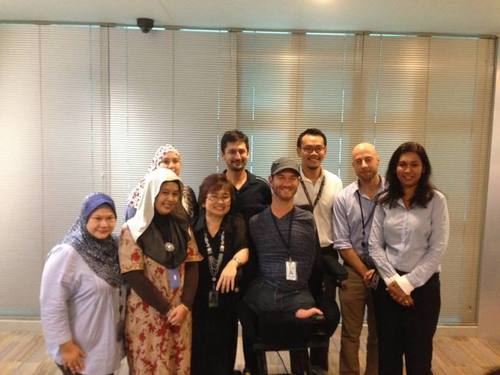 Nick Vujicic World Outreach Asia … I wish we could sit down for coffee and have a long chat about 2013 World Outreach. We've recently ministered in Hungary, Japan, Philippines, Malaysia, Vietnam, Cambodia, Macau, Hong Kong and South Korea.
Cee Harmon's insight:
During the Nick Vujicic World Outreach Tour Asia, his heart experienced both joy and sadness at what he saw.  He saw a lot of hurting people and knew that many of them were just waiting for someone to bring the hope of Christ.  He also has plans to continue the world tour and take the Good News of Jesus to Thailand, Singapore, Ecuador, Peru, Paraguay and Uruguay.
See on crossmap.christianpost.com
Featured Video
Nick Vujicic World Outreach in Hong Kong (2013 Asia Tour)
Nick Vujicic, ( founder of Life without Limbs) is in Hong Kong as a part of his World Outreach, Asian Tour.
Related Stories
Nick Vujicic signs multi-book deal – Christian Today Australia
Christian Today > Nick Vujicic, the inspiring evangelist and best-selling author who was born without arms or legs, has signed a multi-book deal with WaterBrook Multnomah Publishing Group. … Vujicic is currently on a break from his 2013 Nick Vujicic World Outreach, which he has described as "one of the biggest endeavors in the history of Life Without Limbs." He recently spoke in Japan, the Philippines, Malaysia, Cambodia and other Asian nations. He also had the opportunity …
Travel Photographer// Japan & Philippines with Nick Vujicic. » Mike …
http://www.blog.mikevillavisuals.com
Travel Photographer// Japan & Philippines with Nick Vujicic. Remember how I said I was doing a bit of work with Life Without Limbs? Well, by a bit I meant 27 countries-worth of work. I've been following Nick Vujicic along on his World Outreach …
Nick Vujicic's Lecture Touched Hearts of Malaysian Youths | The …
Nick Vujicic, a motivational speaker and limbless evangelist, is travelling in Asia to give his inspiration and hope to people across this area, includes of Japan, the Philippines, Malaysia, Vietnam, Cambodia, Macau, Hong Kong and Korea. … "Please keep us in your prayers as we travel through Vietnam – likely our most logistically difficult country on the Asia leg of the Nick Vujicic World Outreach," he said in his website after he spoke in Malaysia. After Vietnam, he is set to fly to …
Nick Vujicic: Running the Race With No Legs – Charisma Magazine
It took a while for Nick Vujicic to find his purpose in life, but once he did, he took off, traveling around the world as a human illustration of the hope and direction he found in Christ. … Also this month, Nick begins a 26-country outreach to mobilize churches and tell people about the kind of fulfillment and purpose found only in Christ. That's the same goal that BGEA's My Hope America has as Christians nationwide share their faith in 2013. "It's not about numbers, but at …
Top Related Websites
[ic_bing_search refresh="every week" loop="rand(6-7)" keyword="nick vujicic "]
Related articles