Elevate Christian Network :: Global Humanitarians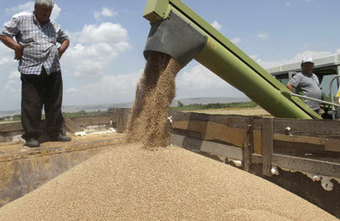 Russia and other countries should hold discussions on possible humanitarian deliveries of wheat to Egypt, the world's largest importer of the grain, as it faces an acute shortage, Russia's deputy agriculture minister said.
Cee Harmon's insight:
Russia's Deputy Agriculture Minister, Ilya Shestakov, said that there have been no communications from Egypt requesting humanitarian aid deliveries. Egypt's minister of supplies said there is less than two months' supply of imported wheat left in its stocks. They usually import about 10 million tons of wheat  a year, with Russia as a major supplier.
See on www.tradearabia.com
Story: A Russian Emergency Ministry cargo plane left Moscow on Wednesday carrying humanitarian aid for Syrian refugees in Jordan. The plane is carrying 48.5 tons of humanitarian cargo: mobile power stations, sets of cutlery, sets of folding furniture, tinned food.
More Russian Humanitarian Aid News
Dozens dead in battle for key Yemen port International aid groups cautioned the threat of a major humanitarian … to the assault to allow time for talks on a rebel withdrawal and to avert a humanitarian disaster. Russia said "the offensive against Hodeida risks triggering catastrophic …
Russia delivers humanitarian aid to Syria's Homs Russian soldiers from the Russian Reconciliation Center for the Conflicting Sides in Syria have distributed about 4 tonnes of products in the community of Al-Zaafaraniyah in the Homs province, a representative for the center, Vadim Rogov, told reporters …
U.S. Demands Russian Forces Leave Ukraine After 'Bloodiest Month' To date, Russia has sent 75 convoys of what it claims is humanitarian aid to the occupied regions, without allowing for international observers from the Organization for Security and Co-operation in Europe (OSCE) or recognized humanitarian groups to run …
Trump administration grants release of $6.6 million to Syrian aid group White Helmets and they often become targets of Syrian and Russian airstrikes. Their efforts were chronicled in a critically-acclaimed Netflix documentary. In March, the administration froze more than $200 million in aid to Syria, including aid to the White Helmets …
See also: Christian News Headlines and Christian Music & Books at Elevate Christian Network
Around the web