Unlikely Heroes: Anti-Human Trafficking Organization | Rescue and Rehabilitate Child Victims
Elevate Christian Network :: Global Humanitarians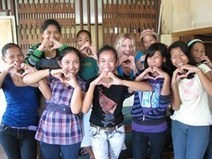 Los Angeles, CA (PRWEB) – Unlikely Heroes announces their Human Trafficking Awareness and Prevention efforts through strategic partnerships with the media and Hollywood, including Forbes, OK Magazine and others.
Cee Harmon's insight:
The mission of Unlikely Heroes is to rescue and rehabilitate child victims of sex slavery through restoration homes and prevention programs.  They are working in the Philippines, Thailand, Mexico, and the USA.
For National Slavery and Human Trafficking Prevention Month, Unlikely Heroes has launched a viral Public Service Announcement focusing on these issues and how they plan to combat it.
See full story on www.prweb.com
Unlikely Heroes: They are dedicated to the abolition of child sex slavery and exploitation in the US and abroad. This video captured the Unlikely Heroes team in the Philippines when they rescued girls out of brothels and opened their first restoration home.
About Unlikely Heroes
Every human being no matter what race, color or age, was born to be free and to stay free. Sex trafficking can seem like too big of a problem when we think about fighting it on our own. But history has proven that when people join their voices together, change is inevitable.
Unlikely Heroes is 501c3 non-profit organization that rescues and restores children from slavery worldwide. They have 5 restoration homes in the USA, Thailand, Mexico & the Philippines.
Photo Gallery
More resources:
Unlikely Heroes is an amazing charity! Restoring and rehabilitating lives that have been victims of sex slavery. This charity is truly changing the lives of those …
Unlikely Heroes provides safe homes to child victims of sex trafficking and is dedicated to the restoration children survivors of sexual abuse, trafficking or …
A big sold-out event in Dallas, Texas this weekend will raise money for a non-profit organization called "Unlikely Heroes.: Savannah Chrisley, from the cable show Chrisley Knows Best, will be hosting the event. Mandy Teefey, who is singer Selena Gomez' mother, is the keynote speaker. They say the mission of the group is to rescue child victims of human trafficking…
Founder Erica Greve isn't alone on this mission. Thanks to the annual U Hero Gala and celebrity support team, she's been able to raise money and awareness. For the fourth year, the special night was held in Dallas…
Unlikely Heroes Gala. I was honored at the Unlikely Heroes 2nd Annual Gala on October 19th in Los Angeles. I was honored for the Hero Award along with other individuals who are active in the anti-human trafficking …
See also: Christian News Headlines and Christian Music & Books at Elevate Christian Network
Around the web