Australia Increases Humanitarian Aid to War-Torn Syria
Elevate Christian Network :: News & Events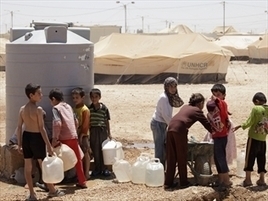 AUSTRALIA has pledged an extra $21.5 million in humanitarian aid to victims of the Syrian civil war. (Australia boosts aid to war-torn Syria: AUSTRALIA has increased it's humanitarian assistance to victims of the…
Cee Harmon's insight:
Australia has donated $100 million in humanitarian aid since June 2011.  Since 2011, there have been an estimated 93,000 deaths, while around 1.8 million refugees have fled from the civil war in Syria.  This has been the largest refugee exodus since the Rwandan genocide almost 20 years ago.
See on www.news.com.au
Featured Video and Information
Australia offers aid to Syrian refugees
Foreign Minister Bob Carr announced that Australia will provide a further $4 million in humanitarian aid to help refugees affected by the crisis in Syria.
Social Media Comments ::>
AUSTRALIA has pledged an extra $21.5 million in humanitarian assistance to victims of the Syrian civil war.   http://t.co/E7X5NDqu4o
Syria death toll hits 5000 a month – The Australian
Sky News AustraliaSyria death toll hits 5000 a monthThe AustralianUN humanitarian chief Valerie Amos said the international community may have to consider cross border operations to get humanitarian aid into Syria. Ms Amos added that $3.1 billion was still needed …
Save the Children welcomes Australia's emergency aid boost for …
http://www.savethechildren.org.au
Australian aid agency Save the Children welcomes today's announcement of increased humanitarian aid for the Syriacrisis, which has
resulted in a refugee flow of more than 1.8 million in a humanitarian disaster the UN has compared to the …
Syria's women sitting in limbo | Oxfam International Blogs
Listening to these stories, I am struck by how lucky I am to have grown up in a country that is stable and prosperous like Australia. When I am sick, I go to see my local doctor. When I turn on a tap, I have drinkable water. How would … The UN recently asked for US$5 billion to provide people affected by the Syrian crisis with life-saving humanitarian aid during 2013. It's a huge amount of money, but to provide essential humanitarian aid such as food, water, shelter and medical …
Syria crisis 'spiralling out of control' – Christian Today Australia
… numbers of Syrian refugees. The warning comes as the United Nations estimates 10 million Syrians will be in need of humanitarian aid. … The world must sit up and take notice of this widening humanitarian tragedy." An estimated 80,000 …
Christian World News
Pope's Homily in Aparecida: Christianity is based on hope, openness to God and … – Rome Reports
ChristianTodayPope's Homily in Aparecida: Christianity is based on hope, openness to God and …Rome ReportsYoutube July 24th, 2013 (Romereports.com) (-ONLY VIDEO) Pope Francis celebrated his first World Youth Day Mass, at the Marian Shrine of Aparec …
Russian Christianity is turning 1025 years old – The Voice of Russia
The Voice of RussiaRussian Christianity is turning 1025 years oldThe Voice of RussiaToday, on July 24 celebrations are starting in Russia that are dedicated to the 1025th anniversary of Christianity in Russia. The head of the Russian Orthodox Church …
Outspoken Atheist Seeks Position As U.S. Navy Chaplain | Christian …
An outspoken atheist is generating controversy in his pursuit of a position as an official United States Navy chaplain. In applying for the chaplain.
German Homeschoolers Head to US Supreme Court … – CBN.com
Attorneys for Christian parents who fled Germany to home school their children freely in America are taking their case to the U.S. Supreme Court. … E-mail us your news tips, story ideas, questions & comments. Contact Us >> …
Sudan Tracking Down Converts from Islam in Purge of Christianity
A Sudanese Christian has fled the country after authorities in Khartoum threatened to kill him for refusing to divulge names of converts from Islam, sources said. The Christian, a native of Sudan's Juba Mountains area, left the …
–Read Christian News & Events Archives >> Top Christian New Stories
Related articles