Introducing New Youth Devotional By Former Rock Star Nick Costello Titled KISS WHAT? To Equip Christian Teenagers To Grow Spiritually
Tags: biblical economics, Christian music artist Carman, christian news and events, Christian Parenting, Christian teenagers, contemporary christian music, Exposing What God And Satan Think About Your Music And Worship, howard hendricks, Jesus Christ, KISS WHAT?, Nick Costello, sudanese authorities, youth ministry
Posted by Cee Harmon Categories: Christian News And Events
Elevate Christian Network :: News and Events
Christian Book Release by Nick Costello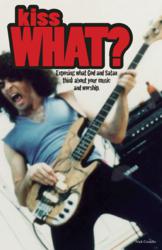 Canandaigua, New York (PRWEB)
Would a Christian teenager offer his or her heart up to the devil? Satan is viciously waging war for the attention of today's Christian youth. When Christian teenagers befriend the devil by listening to ungodly music, they are giving the devil the honor, glory and worship only God rightly deserves. Teenagers don't recognize, when they listen to music representative of the devil's kingdom, they're opening the door of their hearts and minds to his voice and feasting on his poisons. He is succeeding in his efforts to lure Christian teenagers away from Christ.
Nick has discovered this to be true: Too many are deceived into believing God doesn't care, they sin by listening to the many styles ungodly music, especially rock and rap, therefore grieving the heart of God! Every teenager needs to know, understand and believe the powerful and dangerous influence ungodly music can have on their spiritual growth and relationship with God!
But this insightful book, KISS WHAT? Exposing What God And Satan Think About Your Music And Worship, is more than just another book addressing a most relevant issue in Christian parenting and youth ministry, a teenager's music and entertainments. It also teaches Christian teenagers how to become a champion worshiper of Christ, resist peer pressure, trust God in the storms of their life, take a stand for godly living and so much more. He writes from his personal life experiences, 20 years of speaking to youth and his own battles surrendering his music and complete life to Christ.
The book concludes with a prayer teenagers can pray surrendering their music and all they are to Jesus Christ. An unbeliever is taken through a simple Gospel presentation and offered an opportunity to receive Christ into their life.  A must read for every Christian teenager and needed teaching tool in Christian parenting and youth ministry today.
Check out the video below to learn about the impact Jesus Christ had on his life:
Fallen Rock Star Survives: Story of Nick Costello
My life story as a rock star, how Jesus changed my life and how he can change yours
Prior to his conversion to Christ, Nick lived a fast lane lifestyle of sex, drugs and rock and roll spanning over 25 years. He attained his childhood dream of becoming a rock star with Canadian/American recording artists, Toronto. Nick is an evangelist, youth communicator, conference speaker and worship leader. He travels the country telling his life story, proclaiming the Gospel of Jesus Christ and calling Christians to a life of uncompromising obedience to God. Nick is a graduate of The Billy Graham North American Institute For Emerging Evangelists.
Related Nick Costello Links
http://www.wikipedia.org/wiki/Toronto (band)
keyboardist Scott Kreyer, bassist Nick Costello, and drummer Jimmy Fox. Biography: followed, after which Costello and Fox left the band to be …
Nick Costello Ministries Website
–Visit the Nick Costello Ministries Website at:   http://www.nickcostello.org
More Christian News and Events from Around the Web
Will Mormons turn out to listen to Christian rock 'Roadshow'? | The …
The biggest contemporary Christian music show ever to come to Salt Lake City is putting on a roadshow tonight. That's the Rock & Worship Roadshow, which isn't playing a church cultural hall, but rather one …
RED – Perfect Life (Official Music Video) | Christian Music Zine
Micah Garnett is from Goshen, Indiana and is a reviewer for Christian Music Zine. He's an avid fan of hip/hop and rock music and plans on studying Music Business at Visible Music College in the fall. Harlem Shake (Rap …
Christian Music Legend Carman Diagnosed With Cancer
Christian music artist Carman has been diagnosed with cancer. He announced the news on his Facebook page Thursday morning.
Bestselling Christian Books of the Year – GalleyCat
Below, we've listed the top ten Christian books in multiple retail channels. You can also check out the list of the 50 bestsellers at Christian retailers. Check it out: "The ECPA Bestseller Lists are compiled using adult book sales …
Biblical Economics Key to Real Reformation – Finance – CBN News …
Similarly, Christian author and teacher R.C. Sproul, Jr. told CBN News Anchor Lee Webb that he believes it's time to return to the basics when it comes to economics. "When we're left arguing about whether or not we should …
Sudan detains dozens of Christians as persecution continues …
Sudanese authorities have detained over 55 Christians in the past two weeks, according to Christian Solidarity Worldwide, a group that monitors the persecution of Christians. The arrests follow a media campaign against …
Died: Howard Hendricks, Longtime Dallas Seminary 'Prof' and Mentor – ChristianityToday.com (blog)
Died: Howard Hendricks, Longtime Dallas Seminary 'Prof' and MentorChristianityToday.com (blog)At Christianity Today, we're constantly tracking important developments in the church and the world. Often we use our network of reporters around the world …
Foreigners suspected of trying to spread Christianity arrested in Libya – Fox News
Foreigners suspected of trying to spread Christianity arrested in LibyaFox NewsThe four were arrested in the eastern city of Benghazi on Tuesday and are under investigation for printing and distributing books that proselytize Christianity. Police sai …
More Elevate Christian Network :: News & Events
Cee Harmon is the founder of Elevate Christian Network and Elevate Your Potential Magazine. He enjoys helping people improve the quality of their lives - spirit, soul, and body.
 
Connect with us on your favorite social media sites. Leave us a comment in the section below and tell us what you think.
 
Facebook | Twitter | Youtube | Pinterest | Instagram
How Can I Be Saved | Salvation Prayer – Pastor Joyce Meyer


Does life leave you feeling empty? Do you sense that there's more, but feel unable to reach it?
In The Prosperous Soul e-course, Dr. Cindy Trimm reveals God's path to deep fulfillment.
Health and wellness experts share simple and effective changes you can make to improve your health and quality of life.


Wholetones Chroma videos use the power of healing sounds, colors and light to turn any room with a television into a relaxing, healing spa.