Pope Francis: Time Magazine Person of the Year 2013
Elevate Christian Network :: News and Events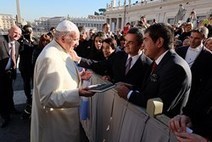 Boca Raton, FL (PRWEB) December 12, 2013 — Humanix Books released a new biography, "Francis: A Pope for Our Time, The Definitive Biography." Pope Francis was just named Person of the Year by Time magazine.
Cee Harmon's insight:
Pope Francis has been named by Time Magazine as Person of the Year 2013.  According to Time Magazine, "Rarely has a new player on the world stage captured so much attention so quickly."  The pope's message and influence is spreading to people beyond the church.  His new biography chronicles his youth, call to faith, ministry work, all the way to the Vatican.
See on www.prweb.com
Featured Video
Featured Video by Reuters News Service:  Pope Francis named Time's Person of the Year
Social Media Comments ::>

Pope Francis on being called a Marxist: I've "known many Marxists who were good persons … I don't feel offended": http://t.co/hPFWuqxXic  Read more …

Dear young people, do not bury your talents, the gifts that God has given you! Do not be afraid to dream of great things! -Pope Francis…Read more …
Let us keep a place for Christ in our lives, let us care for one another and let us be loving custodians of creation. -Pope Francis
More reading:
Pope Francis visits Vatican children's clinic :: Catholic News Agency …
http://www.catholicnewsagency.com
Rome, Italy, Dec 14, 2013 / 09:32 am (CNA/EWTN News).- On the morning of Dec. 14, Pope Francispaid a visit to patients and workers of the
pediatric dispensary of Santa Marta, who surprised the Pontiff with a small birthday celebration…Read more …
What a year for Pope Francis: From unknown to Time's Person of the …
It's been a whirlwind year for Pope Francis. He started 2013 as a relatively unknown Argentinian archbishop but ended it as the beloved leader of the world's 1.2 billion Catholics and Time's Person of the Year. As Time …Read more …
Pope Francis's Challenge to Global Capitalism : The New Yorker
The core of the Pope's critique is moral and theological rather than economic, and that is what gives it its power…Read more …
Pope Francis Trades Skull Caps With Two Visiting Boston College …
Two Boston College students studying abroad in Europe stood in the audience as Pope Francis drove to mass on Wednesday, hoping to give him a personalized gift…Read more …
Nancy Giles on the "bold and scrappy" Pope Francis – "Sunday Morning"
CBS Sunday Morning
Contributor Nancy Giles says Time Magazine's choice for "Person of the Year" has taken the Catholic Church a big step forward.
From the man who became Pope Francis, Jorge Mario Bergoglio shares his thoughts on religion, reason, and the challenges the world faces in the 21st century with Abraham Skorka, a rabbi and biophysicist. For years Cardinal Jorge Mario Bergoglio, archbishop of Argentina, and Rabbi Abraham Skorka were tenacious promoters of interreligious dialogues on faith and reason. They both sought to build bridges among Catholicism, Judaism, and the world at large.
On Heaven and Earth, originally published in Argentina in 2010, brings together a series of these conversations where both men talked about various theological and worldly issues, including God, fundamentalism, atheism, abortion, homosexuality, euthanasia, same-sex marriage, and globalization. From these personal and accessible talks comes a first-hand view of the man who would become pope to 1.2 billion Catholics around the world in March 2013.
–More >> Categories >> Christian News and Events >> Trending Christian News
Related articles